2023.05.19
【2023 Green season MTB Operation】 June 3rd (Sat) Season Opening! Niseko Koropokkur Bike Park
この記事をシェアする
【Spring Announcement】June 3rd (Sat) Season Opening!
Niseko Koropokkuru Bike Park 2023 Operating Schedule
With the end of the ski season in the Niseko area during Golden Week, we are finally entering the mountain biking season. We apologize for the wait, but we would like to inform you of the operating schedule for Niseko Koropokkuru Bike Park for this year. Please come and enjoy the ever-evolving mountain bike courses in the Niseko area!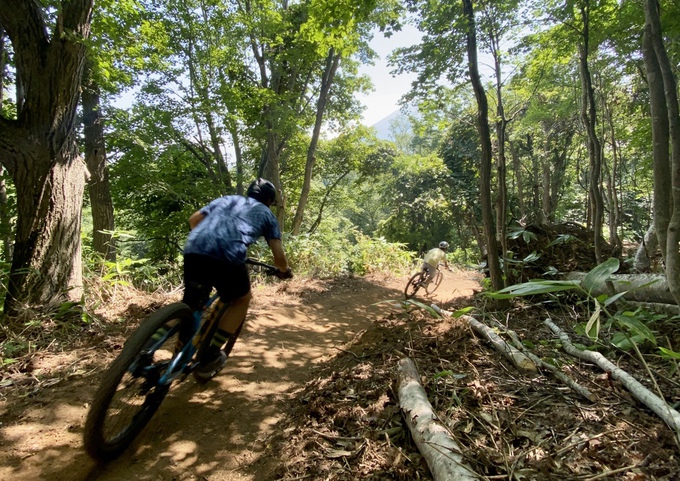 2023 Business plan:

Business Period
Overall business :June 3rd 2023 (Sat)~Oct 9th 2023(Mon・Holiday)
Business dates/Holidays
Irregular:
During the summer season from Saturday, July 15 to Sunday, August 27, We will open everyday. *Thursday as regular holidays.
During the spring season from Saturday, June 3 to Friday, July 14, and during the autumn season from Monday, August 28, to Monday, October 9 (national holiday), we will be open on Saturdays, Sundays, and national holidays, closed on Thursday, Friday and reservations will be required on other weekdays such as Monday, Tuesday, Wednesday.
*Season pass holders can use the park during weekdays throughout the entire period, but please note that there will be no receptionist available, and the use of facilities will be at your own risk.
Business Hours
Reception:8:30AM~4:30PM
Course open:9:00AM~4:00PM
Park Pass
Adults
(19~64)

Teens / Seniors (13~18、65+)

Kids
(5~12)

2hours

2000

1600

1200

1day

2800

2240

1680

Season Pass
(3rd June~9th Oct )

20000

16000

12000

Family Season Pass
(3rd June~9th Oct、
Up to 5 Family members)

28800
Rental Fee
Items

2hours

1day

Bikes

eMTB

9000

15000

Dual Suspension

6000

10000

Kids

3000

5000

Equipments

Equipment pack
(Helmet・Glove・Protector)

1250

2500

Single Item

600

1250
Lesson/Guiding Fee
Program

Duration

# of participants

Lesson

Option

Package
Price

Rental
Pack

Park Pass

MTB First timer tour

Kids group under 12

Half day

2 hours

(inc prep start 9:30 or 1:00)

1-6

6000

4250

1200

11000

MTB First timer tour

Adults group 13+

Half day

2 hours

(inc prep start 9:30 or 1:00)

1-6

6000

7250

1600
or 2000

12000

MTB First timer tour

Family Value

(Minimum one kid and one adult)

Half day

2 hours

(inc prep start 9:30 or 1:00)

2-5

6000

4250 or
7250

1200,
1600 or
2000

11000

eBike Lessons and tours

*Height requirement 147cm~

Half day

2 hours

(inc prep start 9:30 or 1:00)

1-6

6000

10250

2000

15000

Private lesson 1p

(Add 1P + 2000 half day)

Half day

2 hours

(inc prep start around 9:30 or 1:00)

1-6

16800

4250 or
7250

1200,
1600 or
2000

23000
Notes on Use
・The park is open to those who are 5 years or older, can ride up and down hills with a bicycle without training wheels (it is preferable to stand on the pedals), and are healthy and capable of group behavior.
・If you are a minor, you must have your guardian's consent to use the park, and if you are under 12 years old, please use it with your guardian.
・The trails have both two-way and one-way traffic. Please make sure to follow the directions for safe riding.
・Please refrain from changing the shape of the trail/items.
・The park is for pedal bikes with brakes only (excluding skills areas).
・Please do not leave the course due to environmental conservation.
・Smoking is prohibited on the premises for the sake of children, and the use of fire other than in designated areas is also prohibited to prevent fires.
・If you are under the influence of strong medicine or alcohol and have problems with judgment or reflexes, you cannot use the park.
・Unauthorized use for commercial purposes and occupation is prohibited. Please consult the receptionist.
NINE LLC
Niseko Koropokkur Bike Park
Contact:080-5770-4464
bookings@niseko-nine.com
この記事をシェアする